Loofah Soap - Honeysuckle Kisses
For the love of loofah!

Looking for a little extra "umph" in your morning body cleansing routine? Our loofah soaps will not only clean and moisturize but it will exfoliate the extra dead skin that need to go away. Bye Felicia!

*This product is heat sensitive. Exposure to high heat in the summer may cause the product to melt during transit.*
 So there you are. You know you shouldn't have TP'd that girls house but your just a kid from the midwest and its a summer night! Cruising down the back roads on your bike to get home and you hit that wave of scent you can't miss. Honeysuckle flowers glowing in the moonlight and that distinct fragrance that makes the world okay again. Then the cops come and grab you because you stopped to smell the flowers. But it smells good. So that's something. 
No factories were used in this product:
Cleanses & moisturizes
Exfoliates dead skin
Detergent free
Smells amazing
Looks pretty in your bathroom
Featured Ingredients:
Detergent free soap, loofah slice, Phathalate free fragrance
Customer Reviews
Write a Review
Ask a Question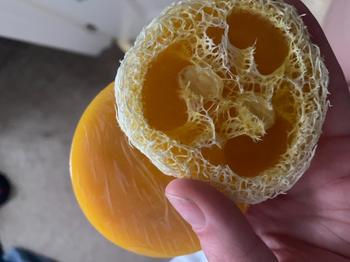 10/06/2019
I recommend this product
SMELLS AMAZING
I use this every time I shower. It's helped with exfoliation and I smell SO GOOD ALL THE TIME. I don't even wear perfume anymore because this makes me smell so delicious. I'm constantly getting asked what I'm wearing and I always tell them about the honey suckle kisses loofah soap from sugar and spruce! And then tell people to smell my arm. And they're always shocked with how delicate, yet prominent the smell comes through still! LOVE LOVE LOVE.
08/31/2021
I recommend this product
Morning burst
It took me a couple of days to use this, since the smell was just so pretty I was pleasantly surprised with how amazing it felt on my skin.
Tamara F.

United States
06/22/2021
I recommend this product
For a Friend
She says this was perfect for her
Danielle B.

United States
09/03/2020
I recommend this product
Love the honeysuckle soap! It smells so good!
The loofah makes your skin feel so soft, and the honeysuckle scent is wonderful!
Cynthia B.

United States
08/25/2019
I recommend this product
Love it!!!
I am so glad that I purchased this loofah soap. I use it every day! I love how my skin feels and smells after using it! I will be buying more soon!