Activated Charcoal with Lavender Soap Bar
*Vegan Friendly!*
With a relaxing lavender scent, enjoy all the benefits of activated charcoal as you wash with this soap!
Ingredients: Organic Palm Oil, Water, Organic Sunflower Oil, Organic Coconut Oil, Sodium Hydroxide, Organic Olive Oil, Lavender Essential Oil, Activated Charcoal.
Customer Reviews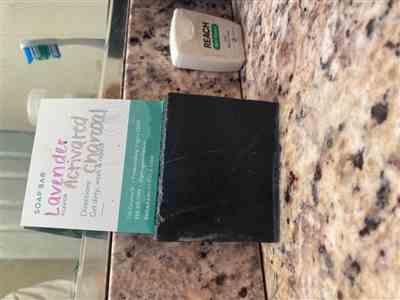 01/01/2020
I recommend this product
Charcoal Lavender Soap
I love the smell of the soap and it makes my skin feel so soft.
08/07/2019
Great for my face!
This stuff is amazing for my face! It smells great and it really makes my face feel squeaky clean!!
07/03/2019
Male review Amazing
I was kinda skeptical at first but my sister pushed me to try the soaps... The soap names threw me off at first but after trying the product I could really care less. I would recommend these to anyone because the soaps last longer, smell great and won't dry your skin out like other do. I can not wait for you bring out more soaps for men. Great product...
Arturo F.
United States