Oatmeal Stout Bath Bomb - Winter edition
Sip and Soak
Pair with some bubbly
Our Handmade Bath Bombs are the flagship Sugar + Spruce sweet treat that'll give your bath a foaming, heavenly fragranced jolt to start your day right or end it on a luxurious note. Grab one or a whole bundle, and we promise you'll be hooked!
The Scent Story:
Reminiscent of a warm oatmeal cookie with a smooth stout finish. One of our most popular seasonal scents. Oatmeal Stout flies off the shelves! 
No factories were used in this product:
Our small batch, handmade bath bombs turn a boring bath into a foamy, fun, refreshing soak that leaves you fresh and ready to face the day; go to sleep; or tuck those little angels into bed.


Sulfate free
Non-staining cosmetic safe colorants
Phthalates free fragrance
No chemical preservatives
Not tested on animals (only team members)
Small batch, artisan made in store
Moisturizing avocado oil

Dropping one in your bathtub with you, your partner, or the kids gives a fizzy, fresh smelling and fun kick to your dull bath routine. You'll have to lock the door to keep them all from jumping in…or not! Instead of wrestling the kids into the tub, you'll be following the trail of clothes and giggles to the great smelling angels you remember. When its over you'll have little if anything to clean up, a bathroom that smells like a palace and a new outlook on life to take into battle with you. Sugar + Spruce Bath Bombs are the right tool in the arsenal for anyone who needs the best defense from the trials and tribulations of 21st Century life.
Featured Ingredients:
Avocado oil, Baking soda, Citric acid, Creme of Tartar, Sodium lauryl sulfoacetate, FDA approved colorants used (lakes, dyes and Micas) Fragrance
Caution!
You will be tempted to use 2 per bath. May make the tub slippery so be careful stepping out.
Customer Reviews
Write a Review
Ask a Question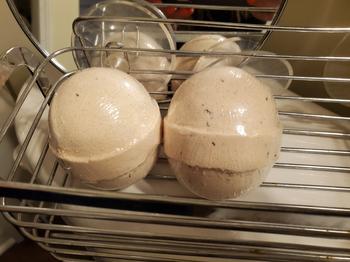 09/10/2021
I recommend this product
Goodnight gracious great balls of NO fire!
Colloidal oatmeal, need I say more?! Exama, psoriasis, poison ivy poison, insect bites this is your bath buddy! And its smells sinfully delicious!
Julia S.

United States
09/28/2021
I recommend this product
Oh my gosh....soooo excited!
I've loved the oatmeal stout soap bar and now the bath bomb. This scent is absolutely yummy...It even makes my bathroom smell great just sitting in the basket not used yet. Sugar and spruce has some amazing products. These products are my obsession. I even send my husband in to pick up my goodies. When I say, can u pick up my bath goodies? He knows where I'm talking about Sugar and Spruce..
Nat W.

United States
11/02/2019
I recommend this product
Treat for skin
Made me feel like I was doing something nice for my skin! Giving it the break it needed!
Whitney N.

United States
10/05/2019
I recommend this product
awesome!
made my skin so soft and smells sooo good
09/13/2019
I recommend this product
Oatmeal brew
Smells unbelievable and made my skin feel amazing.